Our story didn't start with a lot of fanfare. It started with a question:
"How do people want to be taken care of at work?"
This may seem like an obvious question for a benefits provider to ask, but it wasn't always the case. It wasn't until the 80s that some industries started making a shift. They no longer expected the customer to conform to their offering and instead began building their business around what was best for their customers. It was a simple philosophy, yet it didn't take hold in employee benefits. For something as personal as benefits, the industry remained awfully impersonal. We decided to change that.
Johnston Group got its start with the Chambers Plan. Soon after, we added Maximum Benefit and CINUP to our family. Today, we administer group health and dental benefits, critical illness, disability and life insurance to more than 30,000 small businesses, 300 larger companies and 350 Indigenous organizations across Canada.
Personalizing our service to thousands of different customers may sound complex, but we've found we only need three things to make it happen: happy people who are keen to hear new ideas, a culture that is open enough to accept feedback, and a leadership team that is flexible enough to incorporate it in the way we work.
Our industry is changing, and the new people entering the workforce want more from their work. The Johnston Group of the future might look very different from today as we grow and adapt to the changing needs of our customers. But no matter how our services change, we're going to operate in the same way we always have: We're going to listen first, take the time to explain, stay flexible, be generous and offer a little grace – to our customers and each other.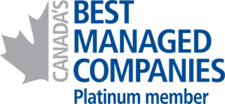 Johnston Group is proud to have been recognized as one of Canada's Best Managed Companies every year since 2001. The country's leading business awards program, sponsored by Deloitte, CIBC Commercial Banking, Canadian Business, Queen's School of Business, and Toronto Stock Exchange, recognizes excellence in privately-owned and managed Canadian companies.